Artificial Reef Structures & Pieces
from Living Color
Living Color fabricated reef sculptures and pieces provide a non-toxic, safe environment for aquatic animals and are available in pre-made standard structures or custom made. With a variety of sizes, designs, and color options, your aquarium can look like a customized masterpiece at a fraction of the cost.
All Living Color Artificial Coral Reef Inserts:
are natural-looking, non-toxic, and easy to clean
are very durable and will not abrade or peel
will not scratch your acrylic tank
have UV inhibitors to impede discoloration and deterioration
are beautiful in both marine and freshwater aquariums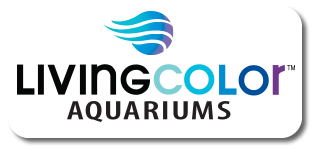 All Living Color artificial corals are hand-crafted by highly skilled artisans who specialize in achieving detailed and realistic excellence in coral fabrication. They are also museum-like in quality and unrivaled in realistic appearance. The materials for these aquarium decorations have been carefully selected to ensure longevity, maximum durability and realistic form and texture, all while providing marine life a safe and compatible habitat. These corals are fabricated in a 43,000 square foot, state-of-the-art manufacturing facility in Fort Lauderdale, Florida, which allows us to maintain complete quality control and consistency in achieving excellence with each and every piece.
Artificial Coral Reef Inserts
"Plug and Play" Interactive Coral Reef Systems
Custom Artificial Coral Reef Inserts
Specially designed to fit into aquariums that have limited access from low overhead clearance or small lid openings and therefore cannot accommodate a full sized reef insert.
Conceals unsightly plumbing lines and overflow boxes.
Plumbing drains and returns can be designed directly into the reef itself for public aquarium style exhibitry.
Can fit into most major brands of aquariums through existing lid openings and can be removed for cleaning outside the tank if needed.
Unique interlocking design that is virtually seamless once installed.
Shapes, sizes and viewing angles are unique to each reef.